Blog
The Smart, Secure, Revenue-Generating, Silicon Valley-Inspired Physical Store is Here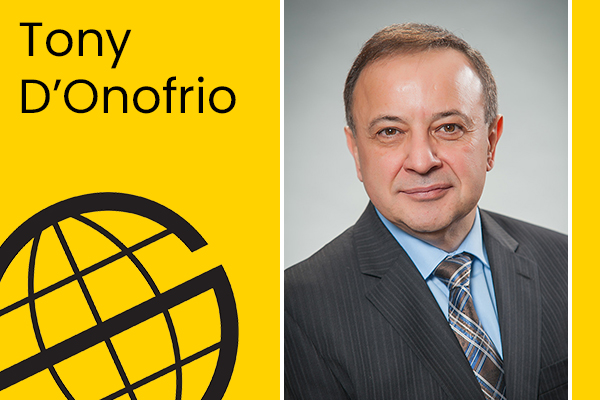 What if retailers could create a whole new revenue stream that constantly generates profit without changing their core business?
The advent of the Internet has dramatically transformed the role of advertising to consumers. For some time, I have been a student of Silicon Valley platforms such as Google, Linked-In, Facebook, Twitter, etc. that derive a substantial revenue from advertising. In 2022, social media will account for 33% of all digital advertising spend.
More intriguing has been the growth of advertising by online retailers such as Amazon. In 2021, Amazon became the third largest digital advertising agency behind Google and Facebook, reaching an astounding $31 billion in ad revenue.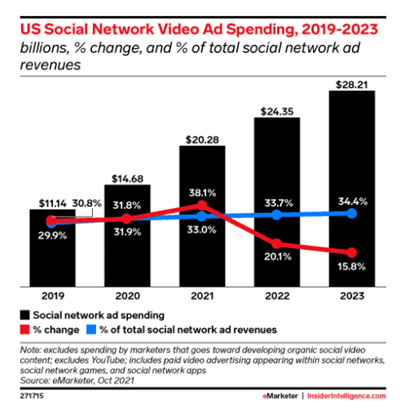 Partially because of the fast growth of Instagram Stories, Reels, and TikTok, creative short videos, are now becoming the fastest growing ad presentation platforms. In 2022, social media video ad spending will increase over 20% and reach $24.35 billion.
Innovative retailers are embracing social media as advertising channels and are increasingly shifting to short snappy video to showcase their brand story.
Those same innovative retailers now have a leading-edge physical in-store advertising solution to deliver focused advertising messages to their customer base.
The Screen Revolution is Just Getting Started
After this year's NRF Big Show, I highlighted five innovation takeaways. The fifth was my projection that the physical store is evolving into an interactive 'digital smart platforms' across business functions.
The future of retail will require greater integration of solutions and expanded functionality that delivers exponential value beyond base product functionality. The acceleration of digital transformation trends have accelerated our comfort level with computer screens.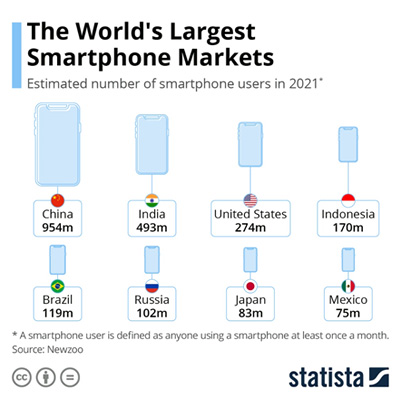 We have been trained, especially by smartphones, to stare at screens for information and entertainment. The top 5 largest smartphone markets have already crossed over 2 billion smartphones in total usage in 2021.
Consumers have been trained to interact with digital content and new generations are embracing these interactive trends much more aggressively.
An estimated 56% in-store sales are influenced by a digital interaction. Digitally-influenced consumers buy more and spend more. "Consumers who use digital while they shop in-store convert at a 20 percent higher rate compared to those who do not use digital as part of the shopping process."
The Smart Digital Integrated Entrance that Increases Retail Sales
If you examine closely some of the most successful business models in Silicon Valley, at their core is consumer engagement through advertising. It is time to extend this innovation model into the physical store.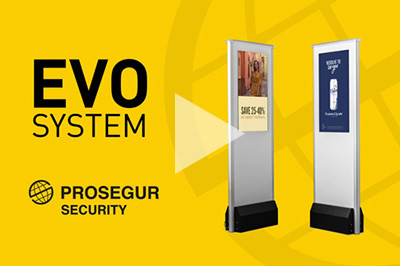 Using lessons from Silicon Valley, we recently announced and are currently deploying EVO, the next generation Electronic Article Surveillance Solution (EAS) digitally revenue delivering solution. This is one, perhaps leading example, of digital advertising in physical retail that I believe will become ubiquitous in our industry.
With the EVO platform, we evolve traditional security tagging systems into a cloud-based advertising engine that can pay for the security technology. Its successful deployment actually increases sales for the retailer through advertising campaigns that engage consumers at one of the most critical areas of the store — the entrance or exit. EVO includes AI data analytics that can count people entering stores, helping increase conversion rates; can identify gender to help customize advertising; and has built-in security features to deter and identify shoplifting crime.
Many EAS systems today stationed at entrances and exits of retail stores carry static, often boring, advertising messages. It is time to step up innovation to next generation powerful visually-pleasing integrated advertising videos.
The entire world of advertising is aggressively transitioning to colorful eye-catching moving pictures. 81% of marketers feel that video has a direct, positive impact on sales. 94% of marketers agree that videos have helped increase user understanding of their product or service.
Now is the time to leverage the power of cloud platforms to deliver relevant localized advertising content that will deliver recurring additional revenue to the physical stores.
Retailers are demanding increased integration that "sweats the assets" and deliver higher value. Digital screens will increase their presence and influence in our lives and it is time to extend their revenue generating capabilities inside physical stores.
Just as social media became ubiquitous in the usage of advertising and smartphones accelerated digital adoption, physical stores will evolve into a digital platform where fixtures can provide direct revenue from the advertisers, increase sales by the messaging delivered to the consumers entering the store, and through smart integration reduce shrink.
* * *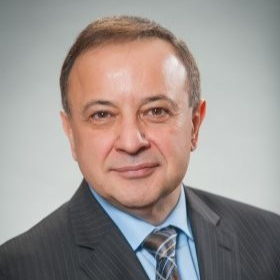 Tony D'Onofrio is CEO of Prosegur's Global Retail Business Unit and CEO of the advisory group TD Insights. Globally he is recognized as a social media influencer in retail, security, and emerging technologies. He is listed as a top 100 Global Retail Influencer 2021 and publishes regularly on multiple global platforms including LP Magazine. His career has included executive roles in both security and information technologies companies. He is a graduate of Case Western Reserve University (BA) and Cleveland State University (MBA). His industry thought leadership activities are summarized at tonydonofrio.com.