News
Prosegur Security Launches eRibbon, The First Sewn In or Iron On RFID Label for Apparel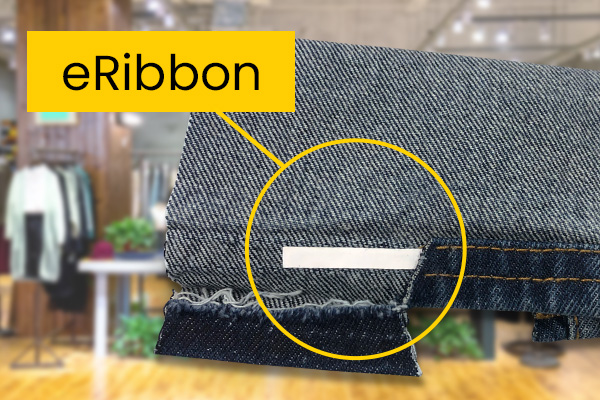 DEERFIELD BEACH, Fla. (January 24, 2023) – Prosegur Security, a global leader in security technology, has launched eRibbon, promising to transform how high-shrink apparel is tracked from manufacture to the sale. The world's first RFID soft tag that can be sewn-in or ironed-on the merchandise is said to be resistant to stone washing and acid treatments used in making of jeans, one of the perennial high-shrink items in retail, offering apparel manufacturers and retailers an unparalleled ability to control their inventory and to prevent losses.
"With eRibbon we set out to solve multiple sources of shrink in apparel, including not just shoplifting, but vendor fraud, internal theft and in-store fraud as well," said Tony D'Onofrio, CEO of Prosegur's global retail business unit. "What we achieved is a completely new way of tagging items with RFID where the tag cannot be removed, altered or lost easily. The eRibbon is built to withstand all the rigors of modern apparel manufacturing and transport, enabling retailers and their suppliers the most reliable way of tracking each item throughout the supply chain, pinpointing bottlenecks and slowdowns as well as potential sources of loss or fraud."
What makes the eRibbon transformational, according to D'Onofrio, is that the eRibbon is designed to be an integral part of the item protected, making the data about the item its permanent companion too. By not relying on labels that can fall off or be altered, or on hard tags that need to be applied and removed, the eRibbon reduces the labor needed to embed RFID data onto merchandise while also drastically reducing the chances of the data being lost or altered. For this reason, it is especially well-suited for self-checkouts since unscrupulous actors cannot remove or falsify the tag with lower price information.
"The inspiration for eRibbon came from world of blockchain and NFTs, specifically the aspect of these technologies that make identifying data about something an ingrained part of that something," said Robert Simoneau, Prosegur's head of retail innovation. "The eRibbon provides complete visibility about the item throughout the supply chain, and does it an unobtrusive and most secure manner available today."
The eRibbon was launched at the NRF Big Show in New York on January 14, 2023 and is now available on the market.